Upgrade to Durable and Efficient Chicago Dryer Feeders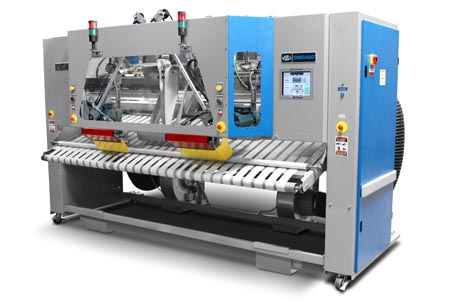 For commercial laundry operations, feeders are an important element to process large volumes of sheets, table linens and other materials into ironing or folding equipment. The durability, precision and speed of a feeder machine are crucial for producing quality, efficient results. With Chicago Dryer being a world leader and specialist in laundry feeding equipment, there's no question that a feeder can provide you with the features you're looking for.
---
Martin-Ray Laundry Systems is a proud provider of Chicago Dryer feeders, offering their wide range of models:
The entire Chicago Dryer feeder line is equipped with precise, automated high-volume sheet and table linen presentation with varying size options.
Chicago Dryer Feeder Features
Chicago Dryer Feeders are able to handle a variety of linen sizes ranging from standard sized sheets to hospitality or healthcare items, the large piece cornerless feeder is a versatile option for any facility. Some features that are standard on all models include:
CHI Touch PC based 12" touch screen control system in full color with a clear display
Cornerless feeder/spreader technology with no manual clipping or corner finding required
Continual queing on loading stations
Modified transition and discharge angle to accommodate heavy linens more easily
Baffled vacuum and airfoil for better laydown of linens before ironer
Powerful dual blowers
Smoothing brushes for wrinkle elimination
---
If you're considering any of the Chicago Dryer feeder models, Martin-Ray Laundry Systems can assist you with providing the products, service and expertise during the investment process. Serving customers throughout Colorado, New Mexico, Wyoming, west Texas and western Nebraska, we are committed to making sure you are satisfied with your laundry equipment experience.