Providing Convenience, Accountability & Profitability with SpyderWash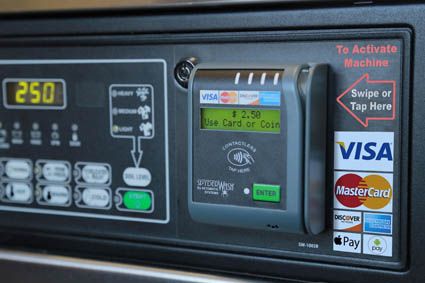 Coin-deposit laundry systems are still quite popular, but laundry customers are increasingly relying on plastic versus pocket change for laundry payment. Credit card laundry payment systems provide convenience and safety for both the customer and laundry facility owner. Upgrading to a card laundry payment system can mean better customer retention and more new customers, boosting profits for you! The Martin-Ray Laundry Systems team would love to discuss the benefits CryptoPay and SpyderWash card payment systems could offer your laundry facility.

---
SpyderWash Credit Card Payment Systems
Designed by Setomatic Systems, the SpyderWash Credit Card System accepts all forms of credit, debit and loyalty cards while allowing you to retain your coin system. In addition, the system takes advantage of certain technologies to improve convenience and security:
RFID Contactless Credit/Debit Cards
NFC Mobile Wallet Payments (Examples: Apple Pay and Android Pay)
Web based management capabilities
Reader is certified by Visa, MasterCard, American Express and Discover
CE, UL and RoHS approved
FCC compliant
The SpyderWash hybrid system goes beyond standard card systems and also offers many attractive features that improve the laundry experience for customers and owners:
User-friendly interface and display
Simply Bluetooth wireless installation process
Real-time payment authorization
Machine availability and machine time countdown options
Multi-vend and multi-pricing capabilities
CryptoPay Credit Card Payment Systems
CryptoPay is an all-in-one unit that instantly encrypts card information, sending it to your CryptoNet Coordinator that easily connects to your facility's internet. Low-cost and simple to attach to any washer or dryer unit, the card payment system is designed to coordinate your entire laundry facility and minimize fees. Each swiper unit can be individually customized based on things like minimum and maximum charges, Amex acceptance, coin values and more. Laundry customers have the added convenience of online-accessible receipts that combine all charges into one payment.
Is a Card Payment System Right for my Laundry Facility?
Giving your customers more options will increase the chances of them using your laundry equipment. If a customer visits your facility expecting to be able to use a card and finds out your payment options are limited, you'll have a missed opportunity. In most cases, investing in a card payment system provides significant benefits and should be seriously considered if you don't have one already.
---
Whether you're investing in a new card payment system or upgrading an old system, Martin-Ray Laundry Systems is able to assist customers in Colorado, New Mexico, Wyoming, west Texas and western Nebraska throughout the entire process. With an experienced team of professionals, we understand the laundry industry and can provide expert advice for any questions you have or decisions you need to make. Contact us today to learn more about how a card payment system can fit into your laundry operations.