Flexible Financing for your Commercial Laundry Equipment & Laundromat
When we're assisting laundromat owners or business professionals in finding the commercial laundry equipment they're looking for, we often find that they don't have all of the capital up-front to upgrade their machines or start their business. For this reason, Martin-Ray Laundry Systems offers financing through Speed Queen and has been providing customers throughout Colorado, New Mexico, Wyoming, west Texas and western Nebraska with affordable financing solutions.
---
Laundry Equipment Financing through Speed Queen
As a factory authorized distributor of Speed Queen commercial laundry equipment, our customers are able to choose from financing options offered by Speed Queen Financial Services. When you purchase Speed Queen washers and dryers from Martin-Ray Laundry Systems, you're able to partner with their Financial Services team to find the financing solution to meet your needs. With over $1.7 billion in laundry assets financed and more than 18,000 loans, Speed Queen knows what it takes to create a financing solution to help existing store owners and new investors achieve success.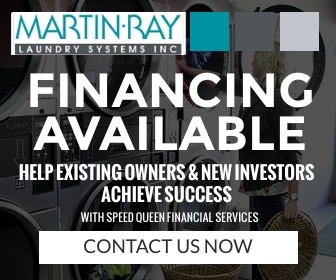 Martin-Ray Laundry Systems Can Finance Your Commercial Laundry Equipment
Whether you're in the market for new Speed Queen washers and dryers for your laundromat or commercial dryers for your hotel's laundry facility, Martin-Ray Systems can create a financing program for you. In addition to having the ability to finance nearly any piece of equipment, our experienced financial team will create a custom financing program with affordable payments. It is our goal to help you get the equipment you need so you can run a more efficient and profitable business.
---
From our locations in Denver, CO and Albuquerque, NM, we've helped laundry professionals throughout the Rocky Mountain region obtain the equipment and financing they needed. When you're ready to turn your new laundry equipment dreams into a reality, contact us and our team will help create the right financing plan for you!