Up Your Game with Chicago Dryer Commercial Laundry Folding & Stacking Machines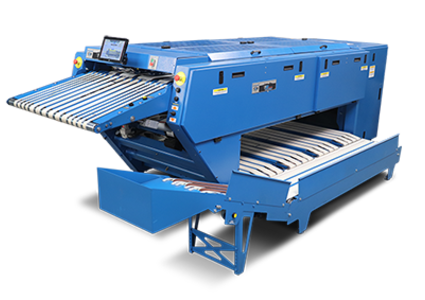 Quality, efficiency, and appearance are everything in today's service industries. Now you can up your game with perfectly folded and stacked linens thanks to Chicago Dryer's commercial and on-premises folding machines and laundry stackers. Whether you're working with napkins, pillowcases, bedding, towels, or other linens, Chicago Dryer has a commercial folding machine to meet your needs. Get perfectly folded linens — every time!
---
Chicago Dryer Laundry Folding Products
Martin-Ray Laundry Systems is a proud provider of Chicago Dryer commercial folders and stackers, offering their wide range of models in all sizes.
The Chicago Dryer commercial folding machines and stacking machines are designed for small piece (towels, napkins, pads, etc.) and large piece (blankets, sheets, tablecloths, etc.) folding jobs. Depending on your needs, you can also choose French fold and non-French fold options.
CHI Touch
Our commercial laundry folders include the CHI Touch PC Control touch screen control system with full color, crystal-clear display. Chi Touch provides:
Easy operation
Improved reporting and monitoring
Increased Flexibility
Proven durability
Ongoing support from the Chicago Dryer team
---
If you're considering any of the Chicago Dryer folder models, Martin-Ray Laundry Systems is here to help you find the right product and provide the ongoing service, support, and expertise you need to maximize your investment. We service on-premises laundry operations across industries through Colorado, New Mexico, Wyoming, west Texas, and western Nebraska. Let us help you up your game today!