Providing Commercial Laundry Equipment Installation
Martin-Ray Laundry Systems' team of installation experts has installed commercial laundry equipment for vended laundromats, multi-housing facilities and on-premise laundries throughout Colorado, New Mexico, Wyoming, west Texas and western Nebraska. The combination of our wide service area and expertly trained team of installation professionals makes for a quick, hassle-free process!
---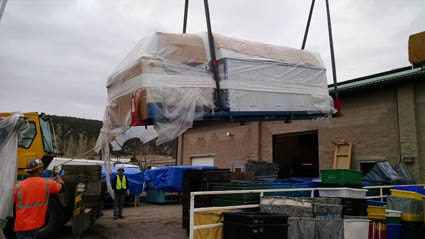 Installation Done Right the First Time
You may be considering hiring a contractor or installing your new washers and dryers yourself, but that can lead to problems and additional expenses down the road. Martin-Ray Laundry Systems' in-house installation team is dedicated to timely, efficient and proper installation. Don't increase the risk of problems down the road due to improper installation. Instead, have the job done right the first time by letting our team install your commercial laundry equipment.
We Work Around Your Schedule
The Martin-Ray Laundry Systems team is here to work with you to get your washers, dryers, flatwork finishing systems and other equipment installed in a timely manner. With locations in Denver, Colorado and Albuquerque, New Mexico, we're able to send our installation team to laundromats and on-premise laundry facilities throughout our territory at a time that is convenient for you. We understand that down time is money lost, which is why we're committed to quick and effective installation.
---
If you have questions about our laundry equipment installation services or would like to learn more about our team's process, contact us today!