Proud to Provide Commercial Laundry Equipment Sales & Services
Martin-Ray Laundry Systems has been offering commercial laundry equipment and services to the vended laundromat , multi-housing and on-premise laundry industries since 1988. Our two locations in Denver, Colorado and Albuquerque, New Mexico allow us to provide sales and service throughout the Rocky Mountain region to a variety of industries, ranging from laundromats and hotels to nursing homes and salons.
---
As a factory authorized distributor of Milnor, Chicago Dryer, ADC/Whirlpool and other leading brands of vended and on-premises laundry equipment and accessories, Martin-Ray Laundry Systems offers a wide range of coin and OPL equipment, including top load washers, front load washers, tumble dryers, washer-extractors, ironers and more.
Martin-Ray Laundry Systems Offers Sales & Service To:
All of Colorado, New Mexico, and Wyoming, as well as counties in west Texas and western Nebraska. If you're located in another area of the country, we can refer you to one of our EVI Industries affiliates (a nationwide network of leading, full service commercial laundry distributors):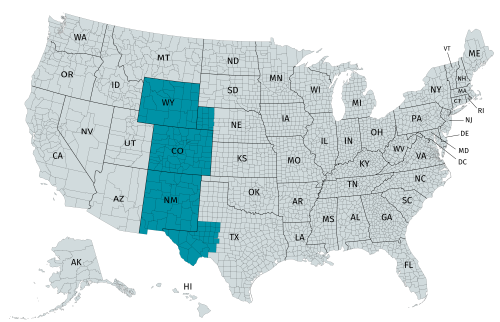 From investment opportunities to commercial laundry equipment installation, Martin-Ray Laundry Systems is here to be your partner from conceptualization through service after the sale. Contact us today to discuss your equipment needs.