Benefits of Card and Mobile Payment Systems for Your Laundromat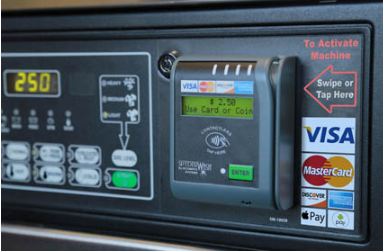 If you looked in your purse or wallet right now, how much change would you have on hand? Probably not much. Considering that fewer people are carrying coins around and laundry prices continue to rise, there's never been a better time to consider adding cashless payment options (such as debit cards, credit cards, or mobile/app payment options) at your laundromat. Let's take a look at a few of the benefits of offering cashless payment options for you and your customers.
Flexible pricing
Credit, debit, and mobile/app-based payment systems allow you to adjust pricing as you see fit. No more being limited to 25 cent increments. Multi-vend and multi-pricing capabilities can do wonders for your bottom line.
Easy monitoring and tracking
It's much easier to track cashless payments and there's less chance for error. Plus, many payment systems, like SpyderWash that we work with here at Martin-Ray, have web-based management capabilities that make it easy to monitor your laundromat's profits.
Customers have options
In fact, almost 30% of adults say they never make purchases with cash anymore. That means they may not ever visit your laundromat or turn to a competitor that has coinless payment options. By offering alternative payment options at your laundromat, you're opening up your business to an extended customer base and allowing patrons to pay in a way that's most convenient for them — without having to make a separate stop at the bank or an ATM.
Increased revenue
Numerous studies show people naturally spend more when they pay with credit or debit cards. People using debit/credit cards or mobile payment methods aren't as limited as people using cash, which means they may opt for upsells, do more loads of laundry, and spend more at your laundromat.
Less hassle
There's no doubt that coins are a hassle. Since many customers don't carry a lot of cash, they'll likely have to make an extra stop at a bank or ATM before visiting your laundromat. On top of that, coins are bulky and difficult for customers to carry around. Laundromat owners or service technicians also have to manage, collect, and transport the change. Alternative/cashless payment methods for your laundromat can save you (and your customers) a plethora of time and energy.
Marketing
Adding coinless payments is another message point laundromat owners can add to their marketing and promotional efforts. Including it in advertisements, signage, and social posts can be a great way to grab the attention of new customers or encourage previous customers to come back. It can be especially effective if competitors in the area are only offering coin-only machines.
Increased customer engagement
Alternative payment methods make it easier to engage your laundromat patrons by introducing loyalty programs and offering a more customized experience. That helps to increase customer engagement and keeps customers coming back again and again.
Increased safety
The less cash you have sitting around your laundromat, the less of a target you are to potential theft or vandalism.
Partner with Martin-Ray Laundry Systems
If you're looking to save increase customer satisfaction and take your laundromat to the next level with card and mobile payment systems, the laundry experts at Martin-Ray Laundry Systems can help. We'd love to discuss the benefits of alternative payment systems with you and get your laundromat all set up. Let's get started...