The Top Things to Consider When Opening a Laundromat
When it comes to investment opportunities, laundromats are proven to have low failure rates, start-up costs, and franchise fees. Compared to other business ventures, commercial laundry has unmatched stability with the average facility seeing a 35% return on investment. There are many moving pieces that go into any investment decision, and Martin-Ray Laundry Systems wants to share the top things you should consider when opening a laundromat.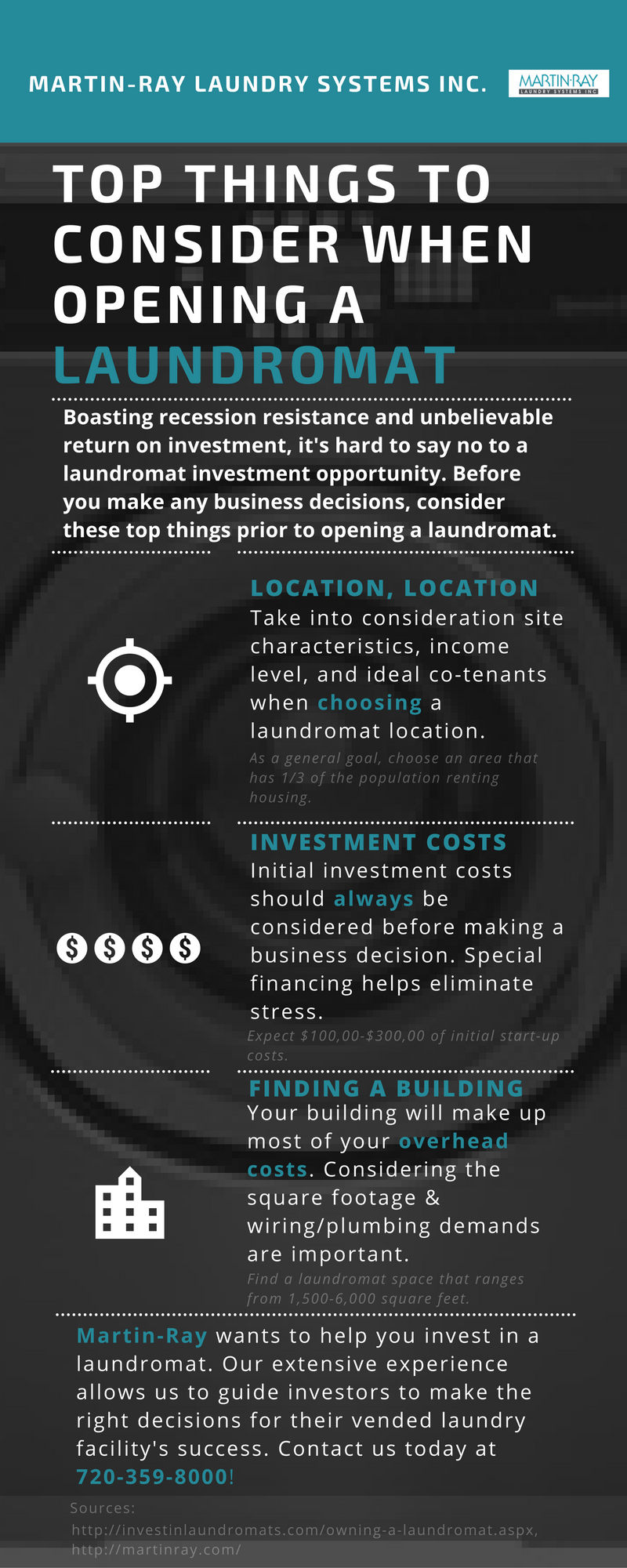 Investment Costs
If you're looking to open a coin laundry facility, one of the most important issues to consider is the initial investment cost. Generally speaking, the average price range to get your laundromat started is anywhere between $100,00-$300,00 (or much more in some urban areas). Don't let this price tag scare you though! Many laundry distributors, like Martin-Ray, offer special financing for washateria owners to alleviate the financial stress and free up cash to reinvest in other areas of your business.
Laundromat Location
When choosing where to operate your laundry facility, it's important to take into consideration the important demographic information that will allow your business to be successful. There are ideal demographics and location criteria to consider when determining compatibility with the laundry industry. These include:
Site Characteristics: Look for a location for your laundry facility that has main road access, high driver visibility, and available parking for customers.
Income Level: Choose a site location that has about 1/3 of the population renting housing and 40% of all households earning less than $35,000 per year.
Co-Tenants: Ideal business neighbors include auto part shops, quick loan, grocery, dollar, and convince stores.
Finding a Building
An added benefit of coin laundry operations is the low overhead costs. Seventy percent of laundromat owners employ 0-2 attendants, making for little to no labor costs. The largest overhead expense for investors is the cost associated with leasing or owning a building. Both options have proven to be successful in the industry, and your laundry distributor or special financing team will help you determine which option is right for your business. It's important to look for a space that ranges between 1,500-6,000 square feet, depending on the size of your operation and can accommodate the special wiring and plumbing demands of a laundromat.
Let Martin-Ray Help You Invest in a Laundromat
While there's always some risk in any business venture, the coin laundry industry is a steady business investment opportunity, even in times of recession. The team at Martin-Ray wants to share their industry knowledge and expertise with you to help your coin laundry business succeed! Learn more tips for opening a laundromat and let us help you select, service, and invest in the proper equipment and site location successfully. Contact Martin-Ray today!