4 Reasons You'll Love Chicago Dryer Finishing Equipment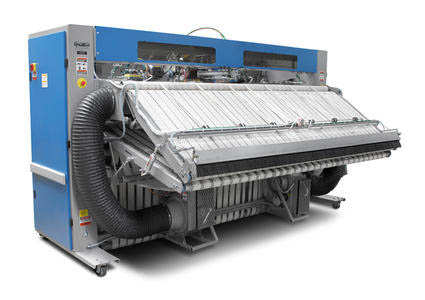 Any on-premises laundry professional knows that finishing touches are a key step in the laundry process. That's why we're proud to be an authorized distributor of Chicago Dryer flatwork finishing equipment. Chicago is a trusted name in the laundry world of on-premises laundry. Today, we wanted to share a few reasons our OPL customers love Chicago Dryer finishing equipment — and why we think you will, too!
1. Unique laundry solutions and technology.
With their sole focus on laundry finishing equipment, Chicago Dryer has created some truly innovative laundry solutions that make your OPL operation more profitable and efficient, such as their Edge® Cornerless feeding technology and energy-efficient Power Burner heating systems that dry fabric directly from the washer to the ironer. You'll also love their advanced control system, CHI•Touch, that allows users to quickly automate operations and track performance without relying on outside vendors. It's finishing equipment for 21st Century laundry rooms.
2. They only focus on flatwork finishing equipment.
Sure, Chicago is not the only manufacturer of flatwork finishing equipment, but the fact that they focus only on that type of equipment puts them ahead of the competition. They're able to narrow in their focus and develop superior products for on-premises laundry facilities.
3. Chicago Dryer has stood the test of time.
Chicago Dryer first debuted at the 1893 Chicago World's Fair. That's quite an impressive business lifespan, don't you think? While their products have changed over time, their longevity proves that their commitment to quality laundry finishing equipment has not.
4. They'll make your business look good!
If you want to take your hotel, health care facility, fitness center, or other on-premises laundry operation up a notch, finishing equipment is a must. There's nothing like perfectly pressed and folded linens to add an air of professionalism and cleanliness that exceeds your customer's expectations. With advanced ironers, folders, separators, and more, Chicago Dryer's wide range of laundry finishing equipment can help you improve efficiency and stand apart from the competition.
If you're in need of finishing equipment for your OPL operation or simply want to learn more about Chicago Dryer's state-of-the-art equipment, we've got you covered! Contact the commercial laundry equipment experts at Martin-Ray, serving businesses in Colorado, New Mexico, Wyoming, west Texas, and western Nebraska.