How Martin-Ray Laundry Systems Supports Your Laundromat from Start to Finish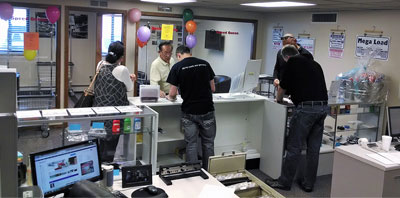 While many commercial laundry distributors are just focused on selling equipment and that's it, Martin-Ray strives to guide and support your laundry business starting on Day 1! No matter what stage you're at -- whether you're just considering opening a laundromat or you've been around the block a time or two -- we are here with high-quality laundry equipment, expertise, and ongoing support. Learn more about how Martin-Ray supports coin-laundry businesses from start to finish.
Location and design consulting
Investing in a laundromat is not a decision to take lightly. If you're still in the beginning stages of opening a laundromat or finding the right location, our team is here to help. We can answer questions, share resources and for new investors, and provide laundry facility design and layout services to get you started.
Read Now: Tips for A Functional Laundry Equipment Layout
Finding the right equipment
As a top commercial laundry equipment distributor throughout Colorado, New Mexico, Wyoming, west Texas and western Nebraska, we know laundry equipment. We'll help get your laundromat outfitted with the most advanced, energy-efficient equipment on the marketing, from top brands like Milnor, and Chicago Dryer. Plus, we'll help you finance your laundry equipment with competitive rates and ongoing support.
Installing the equipment
When it comes to installing your commercial laundry equipment, you want to make sure it's done right the first time. Having the professionals at Martin-Ray Laundry Systems install your new commercial laundry equipment helps guarantee that everything is installed correctly. We'll make sure you're up and running quickly, efficiently, and correctly.
Equipment training and troubleshooting
The process isn't over once you've purchased your equipment. Today's commercial washers and dryers and other laundry equipment is more advanced than ever before. Our experts will take the time to train you on how to use your new equipment as well as basic upkeep and maintenance requirements to keep it running smoothly moving forward.
Ongoing maintenance
If something does happen to your new equipment, we're here for you then too. We're a factory-authorized dealer of replacement parts from many of the top laundry brands. Our experienced team is ready to answer questions, offer advice and help you with your unique laundry equipment and replacement parts needs. Our trained technicians are also on hand to help you troubleshoot or handle repairs and replacements for you.
Ongoing business support
At Martin-Ray, we strive for long-term business relationships and partnerships, not just one-time sales. Whatever you need, our team is here to offer , support, and expertise to help you meet your business goals.
Want to see how Martin-Ray can support your laundry business? Just contact us to get started.