8 Reasons Your On-Premise Laundry Needs Milnor Commercial Washers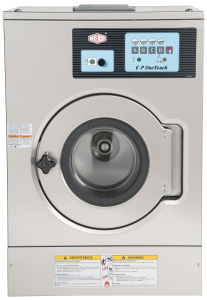 A highly functional laundry room is the unsung hero of many businesses and other organizations, from hotels and health clubs to hospitals, fire departments, and more. Whether you're laundering linens for guests or decontaminating turnout gear between uses, you rely on your commercial washers to get the job done. Outdated or inefficient equipment can cost you time and money, and—in extreme cases—may even derail your operations entirely. That's why we recommend innovative and durable Milnor commercial washer-extractors for our on-premise laundry clients. With advanced technology and impressive features, Milnor equipment can help you cut costs, improve efficiency, and focus on what matters most.
1. Flexible Controls
Each Milnor washer features intuitive controls that allow operators to select pre-programmed formulas based on your facility's specific needs: from simple 4-cycle controls to fully customizable controls.
Rigid mount V-Series, MWF-Series, 48040 F7Z, and 48040 F7D models feature the MilTouch™ control. The E-P Plus® control is available on MWR-, MWT-, MWF-, and -VRJ series as well as on the 48040 F7B and 48040 F7J models.
2. Ease of Operation
In addition to enabling pre-programmed customized cycles, the Milnor machines' intuitive controls allow you to onboard new employees more quickly with less time needed for training. When you're dealing with high turnover rates and a constrained workforce, you can count on Milnor equipment to help simplify your operation.
3. Workflow Optimization
Each Milnor commercial washer features a clear and informative display that shows the current cycle status. This allows operators to accurately gauge when cycles will end and prepare to transition loads to the next stage, reducing unnecessary downtime.
4. Gentle, Yet Effective Cleaning
Your guests expect clean, soft towels and sheets, and you want to prolong the life of your linens. With Milnor washers, you get the best of both worlds. Innovative wash technology and custom cycles deliver a superior clean while minimizing wear and tear, so you can replace linens less often while exceeding guests' expectations.
5. Decreased Utility Costs
Milnor's RinSave® water saver feature uses G-Force technology to effectively extract wash liquids between cycles, reducing the number of rinses per load. With fewer rinses, you can save up to .4 gallons of water per pound of laundry—in high-production facilities, this can add up to hundreds of gallons of water per day. When you use less water, you can decrease your utility bills and help boost your bottom line.
6. Going Green
Using less water and energy isn't just good for your bottom line—it's good for the environment. When you choose efficient washer-extractors from Milnor, you choose a solution that uses fewer precious resources.
7. Save Time
Milnor commercial washers are built for productivity. With custom designs, simple controls, efficient operation, accessible error resolution, and optimized workflows, these machines are made to clean loads—quickly. Not only does this help you make the most of your linens, it helps you reduce your labor requirements, thereby saving money and simplifying your operation.
8. Rugged Durability
Milnor washer-extractors are legendary for their durability. Each machine is individually tested and carefully inspected before leaving the factory; they are designed to last for years, even in the most punishing, high volume laundry environments.
If your laundry operation is integral to your business, you need durable, reliable equipment that works for you. Milnor washers are referred to as 'workhorses' for good reason: They get the work done, day-in-and-day-out, allowing you to focus on big picture aspects of your operation.
To learn more, please contact a Martin Ray commercial laundry expert.