8 Ways Your Laundry Business Can Give Back This Holiday Season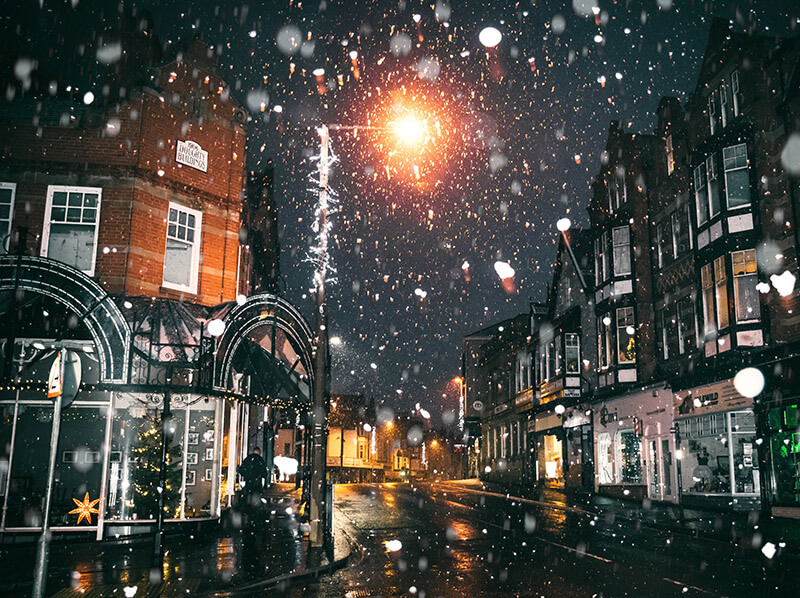 The busy holiday season is fast approaching. Hopefully that is putting you and your employees in the giving spirit. Giving back to the community benefits everyone. Donations, volunteering, and simply spreading holiday goodwill are great ways to foster brand awareness and customer loyalty for your laundromat business. More importantly, it's helping people in need and your customers. There's no doubt that laundromats are closely tied to the communities in which they serve, so it's important to give back when you're able. Here are a few simple ways your laundromat can spread some cheer this holiday season.
1. Host a canned food drive.
Almost 12% of U.S. households were food insecure throughout 2017, and that number often seems to be increasing rather than decreasing. A food drive for non-perishable and canned food items can be a great way to help out this season. Encourage laundromat patrons and employees to donate, and potentially provide some incentive to do so.
2.Host a clothing drive.
Especially as temperatures drop, winter clothing items like sweaters, jackets, hats, and gloves are necessary. However, they're often unaffordable for many families. Much like the food drive mentioned above, a clothing drive can be a great way to help families who are struggling. Since patrons are already bringing clothes to your laundromat facility for washing, it makes for an easy location to drop off those additional items that have been piling up in the back of their closets as well. Plus, you have the equipment right on site to make sure all the clothes are cleaned and ready to donate to the local thrift shop or shelter.
3. Sponsor a child or family in the community.
Many local religious groups, shelters, and non-profit organizations encourage families and businesses to "sponsor" families or children who may be less fortunate and unable to afford gifts during the holiday season. Generally, you pick an ornament off a tree at a designated location, which details a gender, age, and interests of a child in your community. You then buy that child or family a gift, so they have a special present to open for Christmas. It's usually anonymous, but it's a great way for your laundry business to spread love and joy this holiday season.
4. Host a Free Laundry Day.
We've talked about Free Laundry Days before as a way attract customers to your laundromat and spread goodwill around the community, and we think they're awesome. Originally started by the Laundry Cares Foundation (part of the Coin Laundry Association), Free Laundry Days are a great way to help families in need. During the colder months and holiday season especially, saving money at the laundromat can be the difference between affording Christmas presents for a child or paying the heat bill for many struggling families. This is a unique opportunity to give back in a way that only laundromats can.
5. Give discounts and freebies to patrons.
If you have a loyal customer base, it's the perfect time of year to show how much you appreciate them with gifts, freebies, and discounts. Discounts on wash cycles, free branded swag, or even a holiday giveaway or raffle for larger items can be a great way to celebrate the season with your patrons and encourage customer loyalty. Not to mention, merchandise with your logo, coupons, gift certificates, and other discounts make great stocking stuffers and door prizes for holiday parties, which can help get new customers in your door as well.
6. Support other small businesses in the community.
Small businesses are the backbone of communities, and it's important that they stick together. As you do your own holiday shopping and holiday get-togethers, try visiting other local businesses rather than big chain stores or online shopping, especially on Small Business Saturday. You'll be helping to support other business owners like yourself, and you never know what opportunities for partnerships and collaboration may arise from the connections you make. You can also support other local businesses right at your own facility by word of mouth, handing out maps and flyers highlighting the local businesses in the area, allowing them to post on a community bulletin board at your laundromat, and sharing their posts and events through email and social media.
7. Volunteer as a team.
From bell ringing to soup kitchens to shelters, there are always places that could use a helping hand, especially during the busy holiday season. Volunteering with your employees or your family can be a great way to help out the community you serve, spread goodwill, and bond as a team. On a more self-serving note, it's also a great opportunity to talk up your laundry business and foster brand awareness throughout the community.
8. Donate to a charity.
This is an easy, no-stress way for your laundromat to give back this holiday season. All you have to do is write a check to a charity or organization of your choice. And it's usually tax-deductible!
Of course, these are just a few ways your laundromat can celebrate the giving spirit of the season and support your community. Every community is a little different, so look for opportunities and ways to give back that may be unique to your area. We hope you have a joy-filled holiday season!
Read Now:
Attract More Customers With Special Events
How to Grow Your Laundromat Customer Base